Paauwerfully Organized
"Decluttering schedules - spaces - minds"
Kathy Paauw owner of Paauwerfully Organized is a successful Organizing Consultant and Certified Professional Coach. I serve as Webmaster for her web site. I put together her monthly online newsletter and update monthly. (Read what Kathy has to say about our work together.)
---
Paauwerful Learning
A successful 'spin-off' of Paauwerfully Organized created to help Employers and Employees reach their full potential and become more productive.

---
Time's Up Consulting
Founded by Karen T. Cynowa is a professional organizer, consultant, certified trainer with the Go-System and an author of her newly released book
Focus. Organization. Productivity
. Karen has a true passion for workplace systems and processes and enjoys sharing this passion with an audience. Her focus is guiding clients with a simple and understandable set of tools that yield life-changing results. Karen provides guidance to turn disorganization into organization, giving you time, for your passions. This is done through consultation, coaching, workshops and a little humor. Her training sessions are invigorating, educational, and motivational.
---
Claire Hatch www.clairehatch.com a Licensed Social Worker and Certified Mediator. She does a lot of work with premarital counseling and couples counseling. She writes monthly newsletters and articles for her site as well as a couple of others around the World Wide Web!
---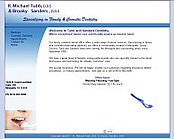 Dr. Robert Tubb, DDS
(Currently in design)

Dr. Tubb is my favorite dentist! This guy is painless, I promise! If you begin to feel the least bit of discomfort he will make sure you are taken care of. I've had 2 emergency root canals and I felt I was taken care of with the utmost care and professionalism. The office staff are friendly, caring and compassionate and make sure you feel at ease during your visit.